We got sets of My Mind's Eye papers this month and I was working with the Ooh La La line for my projects this month. In true page-kit style, it comes with a page of die cuts. My goal was to try to use all of them... because, really, if you save them to use later they will just sit there collecting dust... and then I will feel guilty. My totals for this kit were pretty impressive. I got one 1-page layout and five 2-page layouts plus 2 cards out of the kit... and I still have a few good-sized scraps left for another layout or several cards. What a great deal!

This layout is my favorite this month! The dotted paper made me think of the paper on the inside covers of children's book... which made me look for photos of Adrianna reading... and I found Lyle. She didn't like the book that much... only a single read for this one... but the green croc on the cover inspired the little framed title. I often get these little frames in kits and I confess that I generally leave them unused. Perhaps that's because I was limiting myself to their obvious use: framing a picture. I dedided to frame my stamped title here instead and I like it a lot better! I rumpled the notebook print paper and inked the edges green to help it stand out from the cream backed dot paper. I accidentally ripped the top edge... so I had to rip a little more to make it look right. :) Then it needed something else, so the hanging tags were born. I stamped the first two words of my title on them and looped a piece of thread on each. Then I threaded them through my needle and ran the threads through to the back. I used a little adhesive to hold them just so, keeping the stamping visable. I used part of a decorative edge die-cut along the edge of the photo mat to add some additional contrast between the cream-backed patterned papers.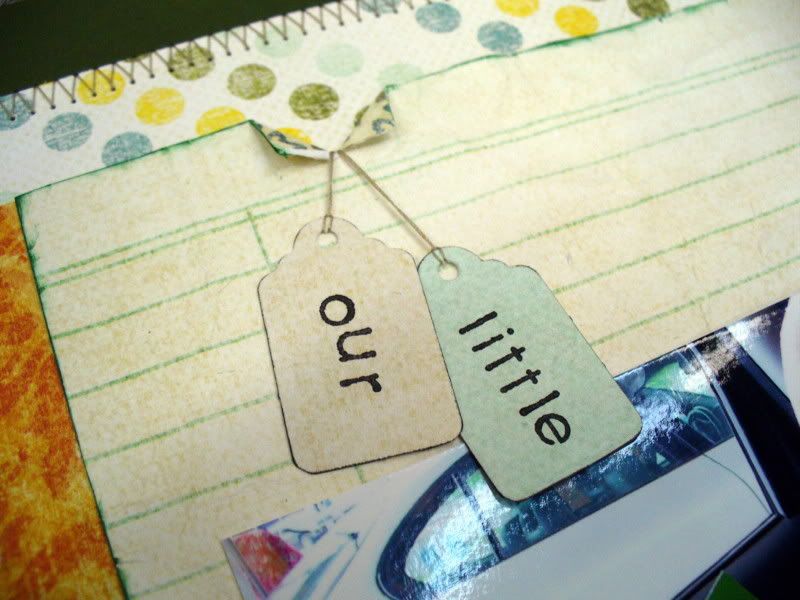 I used the leftover piece of the decorative edge die-cut for this cute, all-occasion card. A die-cut flower and a pair of labels decorate the front... with a little bling to finish it off!




Last but not least, here was my two-page layout. I love this green honeycomb paper. It is fresh, fun, and modern looking. I paired it with some of the Whitewash Co'ordinations paper. I used a few of the die cuts... the photo corner is really a half-frame with the edges sanded to make the cut edge match the other sides, and a cluster of die-cuts highlight the quote. The title is a stamped die-cut in a label holder paired with some really, really old Lil Davis chipboard letters. Really, it would be totally easy to recreate these... all you need is some scraps of chipboard, ink or paint, alphabet stamps, and glossy accents to seal it and give it that professional, store-bought look. The journaling is a quote from Laura Ingalls Wilder from a Mary Englebreit card I've been holding onto for 9 years. I knew it would come in handy! :)
thanks for stopping by!
erin